Theme: Ukraine
Reflection on the watchword of the month for June 2014, Gal. 5.22-23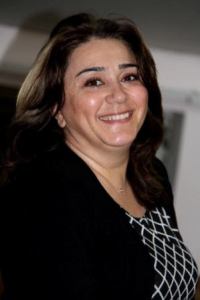 Pastor Menser Ismailova (Baku)
But the fruit of the Spirit is love, joy, peace, longsuffering, kindness, goodness, faithfulness, gentleness, self-control. Against such there is no law. (Gal. 5. 22-23)
Dear brothers and sisters!
From ancient times people have sung of love. Usually we tend to speak and think about love as something romantic or sublime. Sometimes the word "love" is associated with warm or tender feelings toward those who are close to us.
But Jesus gave us a special perspective on this feeling and a unique understanding of true love. First of all, He open up for us the way of Divine love, calling us to love God. Our love to the Heavenly Father is expressed in that we become capable of dedicating our wholes selves to God, to give him the central, most important place in our lives. It can be said that we love God when we dedicate to him everything that He gave us – our heart, our strength, or mind.
Second, Jesus taught us to love one our neighbor as ourselves. True love is expressed in sincere care for people, in mercy and in compassion – even for our enemies. God has created all people according to His image and likeness; He loves every one of us equally. To love means to humbly serve our neighbor, to build bridges of friendship and mutual respect and to not destroy our relationship with others around us through anger or heartlessness.
To love as Christ commanded us means to have the ability to find the power and desire to do good, for everyone, even our enemies, independent of how the other person treats us. If someone offends or disgraces you, all the same you should not go down to his level. Try to achieve the art of love for fellow man and with your whole heart to "love you enemy."
The feeling of love arises not only from the mind, but also comes from the heart; it is not only a result of our will, but it is, to a large degree, from our feelings. We can make this conscious effort only with God's help. After all it is sometimes difficult to understand the deep meaning of Christ's words about forgiving one's enemies. Even if they wish evil for us, we Christians should answer with good! According to Christ, the world will know that we are His disciples if we will love each other with such a love.
But do we love each other with the love of God? Maybe having read these words someone will say to himself – "Yes, I love my friends and love my enemies as well!" But is that really the case? Are we really able to love one another when we sometimes can't even share the land which has been given to us as a temporary dwelling? How can we be happy if every day we read about how many victims were taken by cruel wars and thoughtless arguments in order to gain territory? How can we talk about mercy if brother rises up against brother? What is happening today with us and with our world? Have you ever asked yourself – why is the world so cruel? Why don't people car for those who are like them?
I am not a politician or a judge. But as a believer I cannot look ignore what is happening with my brothers and sisters in Ukraine and Russia. How can I be happy when my friends are in tears, when they loose those who are close to them.
The Bible says – "Whoever claims to love God yet hates a brother or sister is a liar. For whoever does not love their brother and sister, whom they have seen, cannot love God, whom they have not seen. And he has given us this command: Anyone who loves God must also love their brother and sister." (1 John 4.20-21)
Someday each of us will leave this world behind. As we cross over the barrier from life, we take nothing with us – not our wealth, nor our glory, not our power. On the earth there is one Lord and ruler – the Lord God. We should not worry about our temporary earthly wealth and enjoyments; we should not participate in war for land and wealth. We should think now about life eternal. Nuclear weapons and violence should not control the world. Love, compassion, happiness and long patience should find their place in society through us. After all our true home is not here, but in heaven in the dwelling place of our Heavenly Father. Jesus reminds us: "I have told you these things, so that in me you may have peace. In this world you will have trouble. But take heart! I have overcome the world." (Jn 16.33). Amen.
Theme: Children's ministries
Family Camp in Georgia
From June 9th to the 16th the second annual family camp was held in Kvareli (Georgia), with 6 mothers and 10 children (4-13 years old) attending. One of the mothers there said – "The Sunday School children and their parents had been dreaming all year about summer camp, and we were thrilled when it came to be! For 8 days the 'two Irinas' (Pastor Irina Solovey and volunteer Irina Mamisashvili) led us through a great program; every morning started with physical exercise and then 'spiritual exercises' – Bible study, songs and prayers that set the tone for the day. The Bible studies for the week were focused on the stories of Joseph and his brothers. Pastor Irina not only opened up for us the complex relationships between family members there, but also made us think about the problems of our own lives.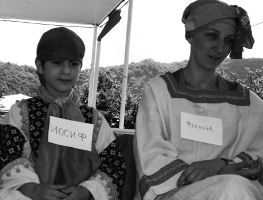 Besides that we played board games, did crafts, took an excursion to a mountain monastery and winery, made a group poster together.... our readings every night from "The Little Prince"by Antoine de Saint-Exupéry gave us warms feelings toward all God's creations and also reminded us that 'you become responsible forever for what you've tamed.' Unfortunately the nearby Lake Ily was not open for swimming, but the kids were thrilled for the chance to use the pool! I would like to say a huge 'thanks' to all who made this camp possible, and I hope we can meet again next year."
Theme: Buildings and renovations
150th Church Anniversary in Perm
For a 300 year old city, a century and half is a significant "age." The old, brick building brings a sense of comfort and trust – when the doors are open, people come in. This valuable inheritance was in the wrong hands for a while – in the 1930s the building served as a photo lab; later it was a club for actors; its interior was split into two levels and it was changed so much as to be unrecognizable. On in the past 20 years has the kirche been surrounded by the care of a loving congregation.
The anniversary was an especially important event for those who put great effort and resources in to the church's restoration. Although the official "birthday" of the building is February 12, the congregation in Perm decided that it would combine this event with the church-wide celebration of Pentecost, June 8th. It was a great gift to receive visitors as brothers and sisters in Christ from Moscow, Ulyanovsk and Kazan on that day. Old friends from a partner congregation of the "brother tradition" in the German city of Neuwied came, as did the Heintz and Barbara Elze family, who have given invaluable help in the rebirth of the church and who continue to support the congregation; they gathered together and organized a large collection of historical information about the congregation's past and preset.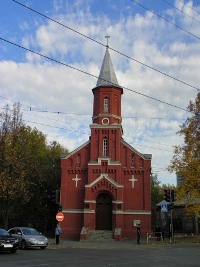 Representatives from the city and state (krai) administration were also in attendance; they promised to provide help in the cosmetic renovations of the building's exterior; it is, after all, a unique historical monument. The heads of other Christian denominations also paid attention to the Lutheran congregation – despite our differences, we all live in peace with one another and share our joys and sorrows. Thanks to his work in the inter-confessional committee and in the committee of Evangelical churches, Dean David Rerikh was able to act as a link between Protestants, other denominations and the government administration. A special surprise was the visit of the Catholic congregation; their church is just two blocks away and after their service, they came to our church to congratulate the congregation through song.
The centers of worship were the sermon by Bishop Dietrich Brauer and Holy Communion. Afterwards guests were served lunch, and this was followed by an organ concert. Warm fellowship with Christians from other denominations and other cities was a good witness that the Holy Spirit really did descend and that the Church is alive and thriving. With God's help St. Maria's Lutheran in Perm will continue to be a house of prayer for another century or more.