Theme: Children's ministry
Siberian Narnia
"The Chronicles of Narnia" was the name of the camp for children of the Abakan region, held in early July. C.S. Lewis' books helped bring out the essence of Christian teaching for kids, and they also provided a lot of images that worked well in the camp setting.
When campers and staff arrived, they found conditions that were not all that comfortable; 4 volunteer cooks had to find their way to work together in the kitchen; everyone had to find their rooms, and leaders needed to be sure that there was something to do for all the kids, whether they be 2 or 17 (that was the real age spread of kids at the camp). Among the staff the oldest worker was 70, while the youngest counselor was 18. It's like in a big, friendly family. Liza, the oldest camper, said - "at first I was a little disappointed to see so many little kids; I decided that the program would be for them. But soon I forgot about my worries because everything was so interesting and fun for all of us. The days were unforgettable." And the youngest counselor (and at the same time the "White Queen"), Katya remembers: "I was given a lot of work right away, but also a lot of trust! I was afraid that I couldn't handle it. But everyone supported me and helped; it turned out to be not so difficult after all and very interesting. I am a future teacher and got great experience at camp. Next year I really hope I can be a camp counselor at a Christian camp again."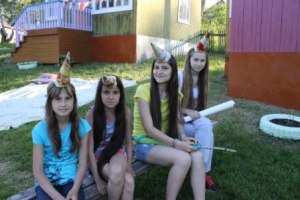 Camp coordinators Anastasia Razinkova and Anna Guray thought up all the details of the program; everything was planned down to the minute. All the lessons and events were well loved by the kids and every time they asked to play more. The only argument that could be used to convince them to go on was that we would see and learn something else new. Viktor Weber was the pastor of the camp; during our group meetings he led prayer and Bible study.
All of the congregations of the region contributed to the camp, both with money and with produce. It seems like a whole lifetime was spent together; even if it was just 4 days, though, memories were made that will last forever in our hearts.