ELCA Partner Visits
2017 showed that the ELCA continues to remain engaged in partnership with the church in Russia. In February regional representative Arden Haug made a trip to St. Petersburg and Moscow together with Bishop Cindy Halmarson, Global Mission Director for Europe, Middle East and North Africa. As usual they visited the central church administration, Bishop Kugappe of the Ingrian Church, and ELCA Pastor Bradn Buerkle in St. Petersburg, and then in Moscow visited Archbishop Brauer and his staff, the French-speaking congregation, and the Moscow Protestant chaplaincy.This trip came at the conclusion of Arden's many years of faithful service in accompanying the Russian church on the behalf of the ELCA; his knowledge of the situation and his efforts on behalf of our church throughout the years have been very much appreciated.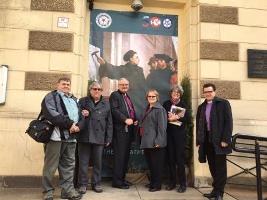 Northwest Washington delegation with Bishop Brauer
In March a group of 5 people from the Northwest Washington Synod, including Bishop Unti, came to Russa to visit the two capitals and their partner synod (ELCER) and congregations in Yaroslavl and Tolyatti. They were very impressed by what they saw, and they are filled with a desire to strengthen ties further. Eva Mader, who was not able to join the delegation that came in March as she had originally planned, did make a short trip to St. Petersburg in September to attend the service of dedication for the new organ in Petrikirche, the partner congregation of her home Grace Lutheran in Bellevue.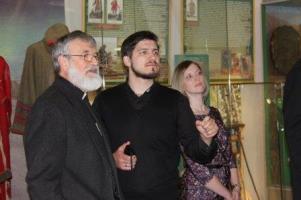 Pastor Gary Teske, Pastor Gleb Pivovarov and Olga Vinogradova
In September and October, a delegation from the Central States Synod made their first trip to Russia in 5 years; while they might not be frequent, they do cover a lot of ground! They began in St. Petersburg and made stops in Moscow, Omsk, Khabarovsk and Krasnoyarsk before reaching the congregations to which they have been historically tied in the Far East. Their meetings with church leaders along the way helped the delegation get a sense of the challenges the church faces and some of the hope-filled new aspects of church life in ELCUSFE, including the leadership of a new bishop, Alexander Scheiermann, with whom the delegation's leader, Gary Teske, had already become acquainted in Omsk at the bishop's installation in April.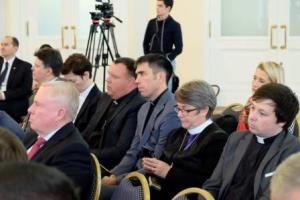 Bishop Halmarson and other church leaders at the Reformation Anniversary
Viking Dietrich, the new ELCA area representative, joined the group in Vladivostok, where they all celebrated together with Dean Manfred Brockmann his 80 birthday and the celebration of 25 years since the congregation has been reborn.
Finally, our church was honored to have Bishop Halmarson with us again for the Reformation anniversary celebrations in Moscow over the last days of October through the beginning of November. Her presence was more than just a reminder that this event is being celebrated world-wide, it was also a chance to gain a deeper understanding of one another and one another's church life.
Bradn Buerkle