The Restoration of the Angel Has Begun
St.Petersburg
After a long wait, the beginning of the restoration of the angel sculpture on the roof of Petrikirche has begun. The "Nasledie (Heritage)" company, in accordance with the government contract signed on April 26, 2016, began their work in the middle of June on the restoration of the sculpture and attic of the cathedral, which is the federal register of historic buildings.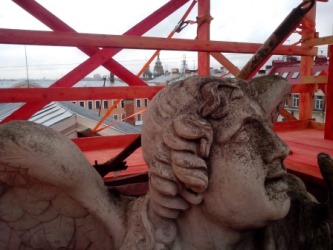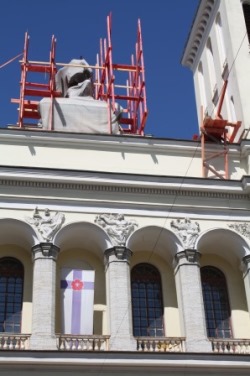 At first a temporary fence was installed near the left side of the facade of the cathedral and then a lift was installed for raising building materials to the roof. In the two weeks that followed the sculpture was surrounded by scaffoldings and a net.
The restoration will last approximately 4 months. It is expected that by Reformation Day the scaffoldings will be taken down and the angel will have been restored to its original form.
Bridge to Kaliningrad
Schwarmstedt, Germany
For a quarter century there has been a partner relationship between the Kaliningrad deanery and the St. Laurentius congregation in Schwarmstedt (Germany).
During these years the inhabitants of this small town in Lower Saxony which belong to the "Bridge to Kaliningrad" organization have been in the Kaliningrad oblast a number of times. The first trip with humanitarian assistance for people in the region came in April 1991. Over the years 250 such trips have been made to schools, kindergartens and hospitals in the region. Also the Carl Blume house was a recipient of this important help, for example, their donations paid for the stairway elevator, installed in 2009.
To mark the 25th anniversary of this relationship on April 25th the congregation in Schwarmstedt invited guest from the Kaliningrad deanery: the head of the diaconal center in Gusev Alexander Michal, Pastor Elena Kurmyshova from Gusev and Yuri Tittel. The guests spoke for the whole deanery when they expressed their thanks and presented their German partners with a hand-made samovar. It was especially important to give thanks to the "Bridge to Kaliningrad" organization and to Emma Helia Sauerwein, who has been its volunteer leader for the whole 25 years.