"The Spiritual Thread" - Khabarovsk
Khabarovsk
Spring began in the congregation of St. John with a happy event – Pastor Markus Lesinski's visit from March 2 to March 8. Seven days of fellowship breathed new life into the congregation and brought new ideas. During evening lessons the topics of discussion were the Bible and the Koran, Christians and Muslims, Lutherans and Orthodox and where these spiritual paths might intersect in the present or in the future. Pastor Lesinski gave detailed answers to the congregation's questions; he spoke at length about theological questions and about current international affairs. The idea of ecumenism carried through many of these discussions. That was no accident, since Pastor Lesinski has been a member of the planning team for the EKD Kirkentag for many years. He is always open for discussion with representatives of other confessions from all over the world, for example, his work with Egyptian Copts or singing in an Orthodox choir or taking part in Roman Catholic liturgy in India. It's no surprise, then, that Pastor Lesinksi had contact not only with the congregation, but also with two universities and a school while visiting Khabarovsk. He even received an invitation to give a lecture about Lutherans to the students of the local Orthodox theological seminary; they had a good discussion afterwards. Later a teacher at the seminary invited members of the Lutheran congregation to visit St. Innocent of Irkutsk Church to see its unique frescoes.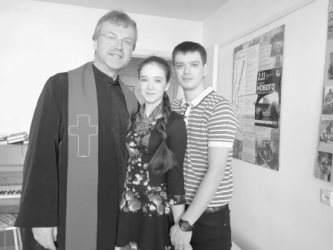 Pastor Lesinski also continued to work with Stas Mel as the latter prepared for baptism; Markus began the classes on his previous visit to Khabarovsk in 2014, and this time they were brought to completion. Stas's baptism was one of the highlights of worship that the congregation celebrated together on the 8th of March.
For 12 years the spiritual threat that tied the congregation and Pastor Lesinski has held strong; despite his active work in congregations tens of thousands of kilometers away, he continues to remember his former congregation in Russia; he supports them with advice, through material he sends for youth ministry or for use at worship. He always remembers to send cards and letters for special holidays and birthdays... While the congregation is now small in numbers, both its members and its former pastor are confident that one day the seed of the word that has fallen into the ground will bear fruit and bring a plentiful harvest.
Lutherans and the World's Largest Lake
Irkutsk
One of the natural wonders I have had the privilege to visit here is Lake Baikal in southeast Siberia. The deepest and perhaps the most ancient large lake in the world, it contains approximately 20% of the planet's unfrozen fresh water. When we recently planned a retreat of our church's Central and Eastern Siberia region to be hosted by the nearby congregations in Irkutsk and Shelekhov, we thought that we should start by taking out-of-town guests (many of whom had never been to Baikal before) for a visit. It was my third trip to the great lake, and I was struck again by how at the most accessible location (the source of the Angara River near Listvyanka) you don't really realize how unique the lake is. A stop at the natural history museum changed that impression, thanks especially to a great tour guide – a researcher in the area of climate change. I was most struck by what he had to say about the lake's 1000+ endemic species, i.e. those organisms that live in Baikal and nowhere else on the planet. They all have adapted to their environment so well that they are unable to survive elsewhere. When I heard about the fat and lovable Baikal seals, the golomyanka fish (mostly transparent, gives birth to live young, able to survive at most any depth), and supreme water-cleaning crustaceans, all of which have no home other than Baikal, I felt overcome with sadness. It was a completely illogical reaction to scientific fact, I know. Maybe it has something to do with the volatile emotional environment of life in Russia at the moment. Or maybe it is because I couldn't help but comparing endemic organisms to our Lutheran church in Russia. Our approach to Christian faith originated in Europe and has adapted very well to northern European and North American environments... it seems to be on the way to adapting to the warmer waters of Africa...but what about here, in the world's largest "lake," Russia? Can it survive here? I didn't have much time to contemplate that question, however, because we soon had to leave Baikal in order to make it on time to the "Blue Spruce" center, where we would meet for our retreat.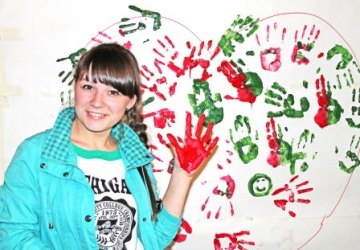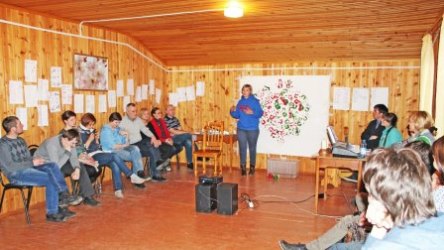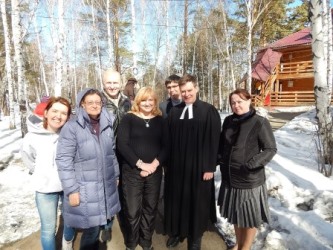 My time with congregational members did much to disperse my doubt regarding the viability of our church here. There I saw people (almost 40 of them!) who strove to grow and develop, to apply their faith to everyday life, even if the environment is not particularly welcoming. The theme that our staff in Omsk, Natasya Razinkova and Natalia Sivko, chose for the seminar - "Ironman" - fit very well for this group. Participants were also well supported (both in logistical and in spiritual questions) by Pastor Thomas Graf Grote and by me as the person responsible for the "Equipping for Service" project. Even if we had a limited amount of time together, we were able to hear something new, to reinforce some of what we already knew, to share with one another, pray with one another, and to sing together...well, in regards to music, maybe it is difficult to say we sang together. At seminars with congregations that are spread apart, it becomes quite clear that the development of various singing styles is part of the local adaption that takes place in each of our congregations in its own way.After the seminar was over, I would have been happy to visit Baikal again. Next time I'm sure that I won't feel sad. Instead I know understand that God created nature (and us together with it) with the capacity to find new paths to abundant life, wherever we may be. Maybe our church is just one tiny "microorganism" in this enormous country, but it also has an important place here. Without it, the environment would be poorer and would suffer. I think we can embrace this identity and go forward.
Bradn Buerkle
An Easter Gift in Yalta
In the days before Easter the congregational members of the church in Yalta once again felt blessed by God's love – the question of their re-registration was finally resolved. Since Crimea became a part of Russia in March of 2014, the Lutheran churches in the region found themselves in a new situation; they needed to prepare paperwork to re-register their congregation in the Russia Federation. It was a time of self-evaluation for the congregation in Yalta, and in the end it was decided that they needed to do what it takes to remain legally registered. Without their own building and without legal registration it was not even clear if the congregation could meet, so they decided that they could no longer come together until they received registration...but then just a few days later they received the news that they had gained their new legal status. Now the congregation, made up of 25 members, is part of the Evangelical Lutheran Church in European Russia. As the years pass many congregational members move away; young people leave for studies, elderly people pass on from this world to the next... At times it has seemed like the congregation has no future. But then new people come, bringing their children and grandchildren with them. The congregation not only meets for worship, but also carries out diaconal work and offers German language courses. The congregation takes part in various city-wide events and hopes to some day again have the right to meet in the historical building of the church, St. Mary's. The congregation doesn't have its own pastor at present, but congregational members get by by leading worship themselves, reading sermons that are sent to them. God has preserved this congregation for over 20 years, and there is now hope for a new path of development of the congregation into the future.
Conflict in the Congregation, Society and the World
Novosaratovka
The first seminar held in Novosaratovka in 2015 looked at conflict from a wide variety of perspectives; Pastor Karin Ludwig-Braun and Pastor Kurt-Juergen Schmidt, long-time friends of our church from Germany, were the central teachers for this seminar. They used their training as chaplains and CPE supervisors to help students work through conflicts in congregations. Seminary President Anton Tikhomirov lectured on conflict and the human condition, while Pastor Bradn Buerkle led lessons on the role of conflict in Church History. The Seminary was also privileged to welcome once again Father Vladimir Fyodorov; he spoke about inter-religious conflict from the point of view of an Orthodox priest.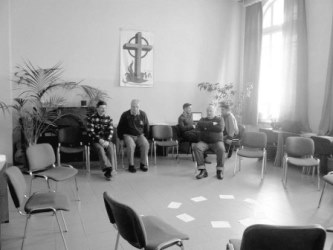 New Pastor in Tomsk
Tomsk
On Palm Sunday, March 29th, the congregation in Tomsk (central Siberia) installed Vitaly Moor as its new pastor. After almost two years of a pastoral vacancy it was wonderful to receive the new pastor for whom the congregation had been hoping and praying for so long.
Vitaly Moor was born in Barnaul (also in central Siberia) in a family of Russian Germans who had been displaced there. In 1998 he finished the foreign languages department in Barnaul, and worked for a time as teacher there. In 2002 he and his family left for Germany, and in that same year he began his studies at the Hermannsburg seminary, which he finished in 2011. Vitaly had an internship with Manfred Brockmann in Vladivostok, and that positive experience helped him see that he would like to work as a pastor in Russia. The synod council decided to invite Vitaly to become a pastor in ELCUSFE, and in 2015 all the details were worked out to make it happen. We wish Vitaly and his congregation God's blessing on their new path together.